"Home is Where the Heart is."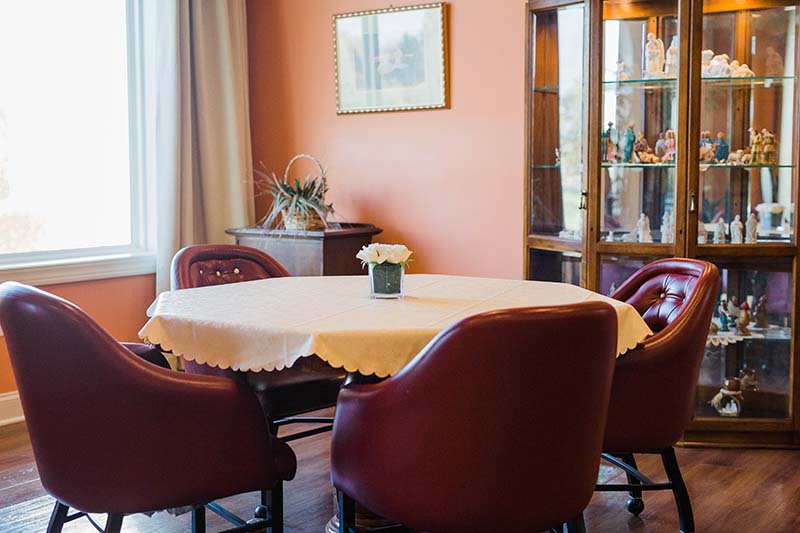 Two beautiful dining rooms
There are two dining rooms available to Fairview residents. Both are graciously served by a large commercial kitchen.
The "Grand Hall" is the main dining area.
Our memory care residents enjoy a specialized dining experience that meets their individual needs.
Each morning residents are encouraged to order breakfast.
For lunch and dinner our residents are served delicious meals made with love from Barbara's favorite recipes.
Every night our residents are served a family style dinner in our beautifully appointed dining rooms.
We are happy to make residents anything they desire.
We offer fresh eggs, prepared any style; breakfast meats (sausage, bacon and ham); hot and cold cereals; alternating pancakes, waffles and french toast; fresh fruit, and Panera breads. Also, coffee, tea, milk and juice.
Lunch consists of one of many homemade soups with a sandwich, pizza or similar entree and dessert.
Dinner, the Social Gathering of the Day
Dinner is quite the social event with periodic special entertainment scheduled during or immediately following the evening meal.
Dinner consists of two main entrees with side dishes and dessert.
Standard daily dinner choices include: apple sauce, yogurt, cottage cheese, fruit, salad (with choice of dressings). Beverage: tea, milk, coffee
All special diets are taken into consideration and may differ from that of the menu.